PlanetPress Connect provides a toolbox to produce and send highly personalised communications, no matter what distribution mode used: print, web, email or SMS.
The modules that make up this very powerful toolbox includes:
The DataMapper, for easy and intuitive data models extraction and creation.
The Designer, to create HTML communications that can be used in digital format or for printing. This tool allows alternating from one communication format to another i.e. print and email and sharing content and images, so that, in the end, the work is done only once.
The Workflow tool, known and loved by existing PlanetPress users, allows the automation of any process related to transactional communications.
An excellent bridge between systems
• This new solution has the same philosophy with its predecessor, PlanetPress, and will easily integrate into existing systems organisations have in place. This means that minimal investment in IT infrastructure or consultation costs will be required.
Enhanced printing
With PlanetPress Connect it is possible to totally personalise printed outputs while enjoying advanced page layout capabilities and dynamic tools creation (tables, charts, etc.). It is also possible to connect to mass-mailing applications and add scan marks.
Native HTML for digital
Thanks to the powerful Designer tool, there's no need to convert anything into HTML. The software creates communications directly in HTML, thereby providing new possibilities for optimal and interactive email or Web communications but allows to easily create printing formats with the same resources.
In the end, PlanetPress users will experience a reduction of their costs, an enhancement of their communication channels as well as better operational flexibility, while gaining clients' acceptance and trust.
Get to know our DataMapper. Use it to extract data and make it easily accessible for use in your documents, web pages and email templates. A simple drag & drop, or just a few clicks of the mouse gets the job done in minutes. Save that extraction as a data model and use it over and over to design multiple documents.
Design all your of your customer communications in one place
Design for web, print, and email by switching between the context tabs. No need to transform print into HTML or vice versa. Use drag & drop to place images, text and variable elements, on to the page without any scripting.
Installed on a server, PlanetPress Connect Workflow is set up to automate all tasks related to the business processes of an organisation, acting as a middleware to the systems already in place.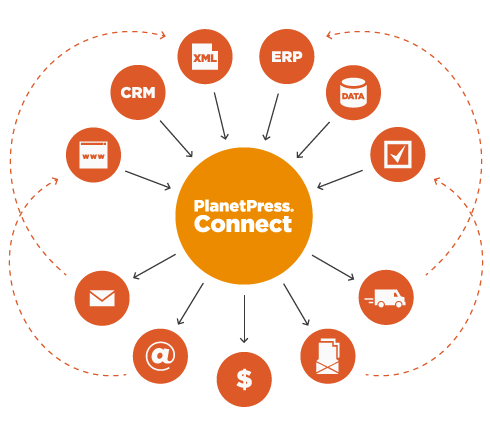 Systems can now communicate
PlanetPress Connect works like any ETL system. It reads data from multiple systems, typically developed and supported by different vendors or hosted on separate computer hardware and bridges the gap between them.
Working with inputs and outputs
Thanks to its open architecture, PlanetPress Connect will work with pretty much any system you have in place so you can regain control over your IT systems. PlanetPress Connect helps you optimize the production, the distribution, and the archiving of transactional documents with automated workflows.